Colour, Pattern, Culture Clash Mash-up
The Afrikimono Collection
An African take on the age old saying of, East meets West.
A fusion of African and Japanese silhouettes creating a contemporary edge on modern dressing. Key pieces are Reversible Lace Trim/Wax Print Afrikimono's and Afrikimono dresses - future SOBOYE classics...
soboye
'the blue collection'
MEN & WOMEN AW16
THIS IS THE SEASON
Autum is finally here! When this time of year rolls around it usually sparks new ideas, reflecting on our vision boards and of course, getting snug in our denims! That's exactly what's inspired our Autumn/Winter 2016 Collection, check our ready-to-wear and evening pieces updated with signature Wax Prints.
Soboye Blue Collection for men
Soboye Blue Collection for Women
African Street Style Festival
'LIVE PHOTO SHOOT'
Group Shot (from left to right)
Tunde
Bowler Hat - Max A Hatter
Striped patchwork sweatshirt - SOBOYE
Trousers - Alexander McQueen
Rings - stylists own
Trainers - models own
Moon
Bowler Hat - Max A Hatter
Ankara Bib - SOBOYE
Velvet and Ankara top - SOBOYE
Trousers - Alexander McQueen
Patchwork Jacket - Cassandra Gubudu
Vintage Leather necklace - Darkroom
Sunglasses - Napsugar
Shoes - FINSK
Sylvester
Red/Black Bowler Hat - Child of the Jago
Patchwork Coat - Cassandra Gubudu
Ankara print shirt - SOBOYE
Ankara print trousers - SOBOYE
Penny loafer shoes - Prada
Ring - stylist own
Stefano
Bowler Hat - Max A Hatter
Jacket - Stylists own
Ankara shirt, Waistcoat and matching trousers - SOBOYE
Patent boots - Alexander McQueen
Wale
Mustard Bowler Hat - Child of the Jago
Patchwork Coat - Cassandra Gubudu
Ankara Shirt - Nash Prints It
Bow tie - Babatunde
Sunglasses - Napsugar
Ankara trousers - SOBOYE
Gold shoes - Alexander McQueen
Watch & Coral bead bracelet - models own
Esee
Dress - Kosibah
Maasai woven bag - SOBOYE
Platform shoes - FINSK
Necklace - SOBOYE
Gele - tied by stylists team
Abdul
Ankara top and matching trousers - Chinakwe
Leather sandals - FINSK
Bowler Hat - Max A Hatter
'Fist and bead' necklace - Strange Loop
Sunglasses stylists own
Sylvester
Yellow Hat with Ankara detail - Martina Bohn(made to order)
Sunglasses - Napsugar
Fumi
Not head print T-shirt - Aso Global
Maasai beaded collar - Pebble London
Red beaded Hoop earrings - Elizabeth Teare
Sylvester
Yellow Hat with Ankara detail - Martina Bohn(made to order)
Patent Leather jacket - SOBOYE
Customised Jeans - SOBOYE
Sunglasses - Napsugar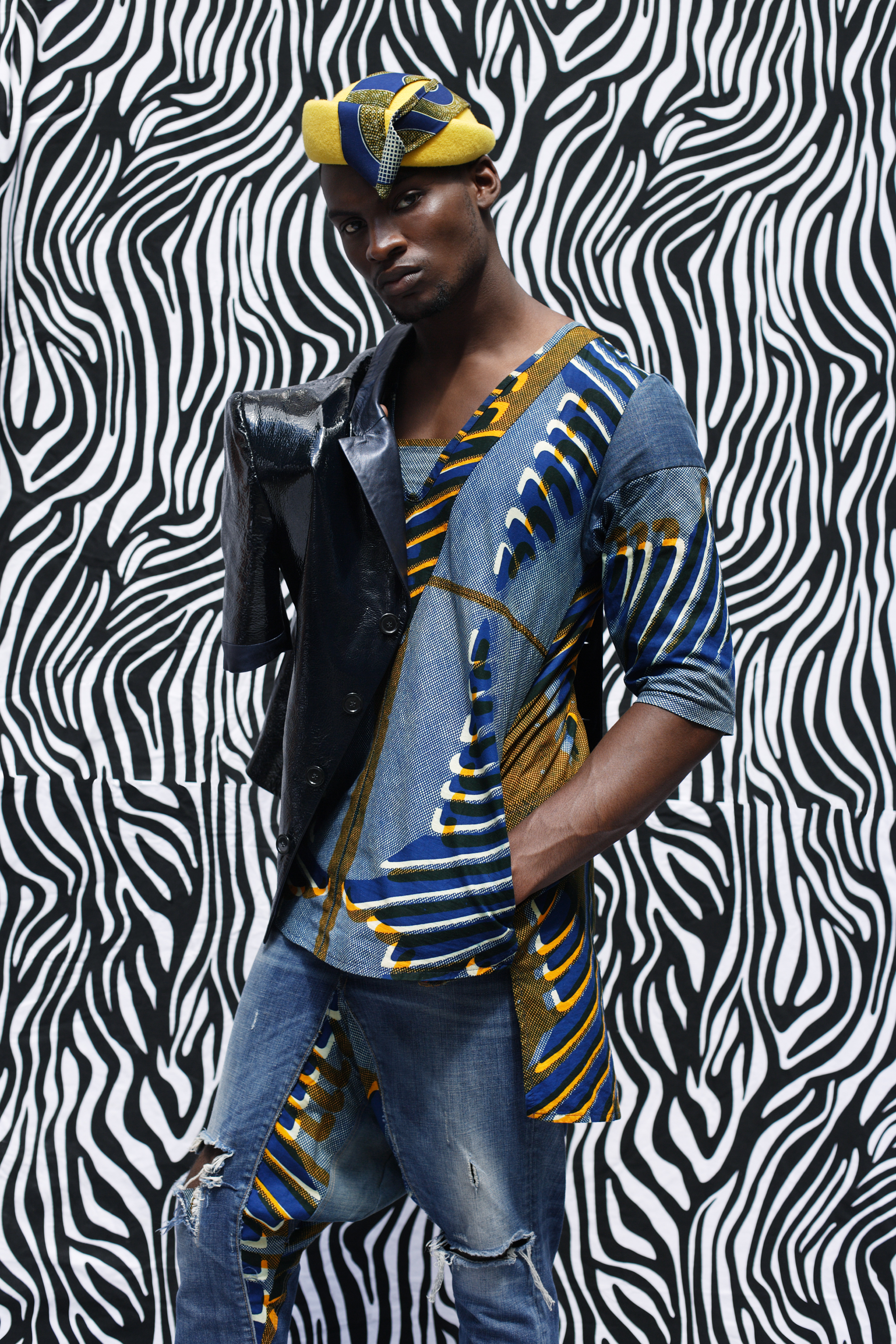 Juwon
Suit - SOBOYE
Shirt SOBOYE
Belt & Cuff - Models own
Socks - Happy Socks
Converse boots - Models Own
Juwon
Suit - SOBOYE
Shirt SOBOYE
Belt & Cuff - Models own
Bowler Hat - Max - A - Hatter
Stuart
'Camouflage' pattern socks - Happy Socks
Raf Simons for Dr Marten's
Stuart
Bowler Hat - Child of the Jago
Ankara shirt - SOBOYE
Maasai Wrap with bead fringe -SOBOYE
Rings - Articulate by Maria Clay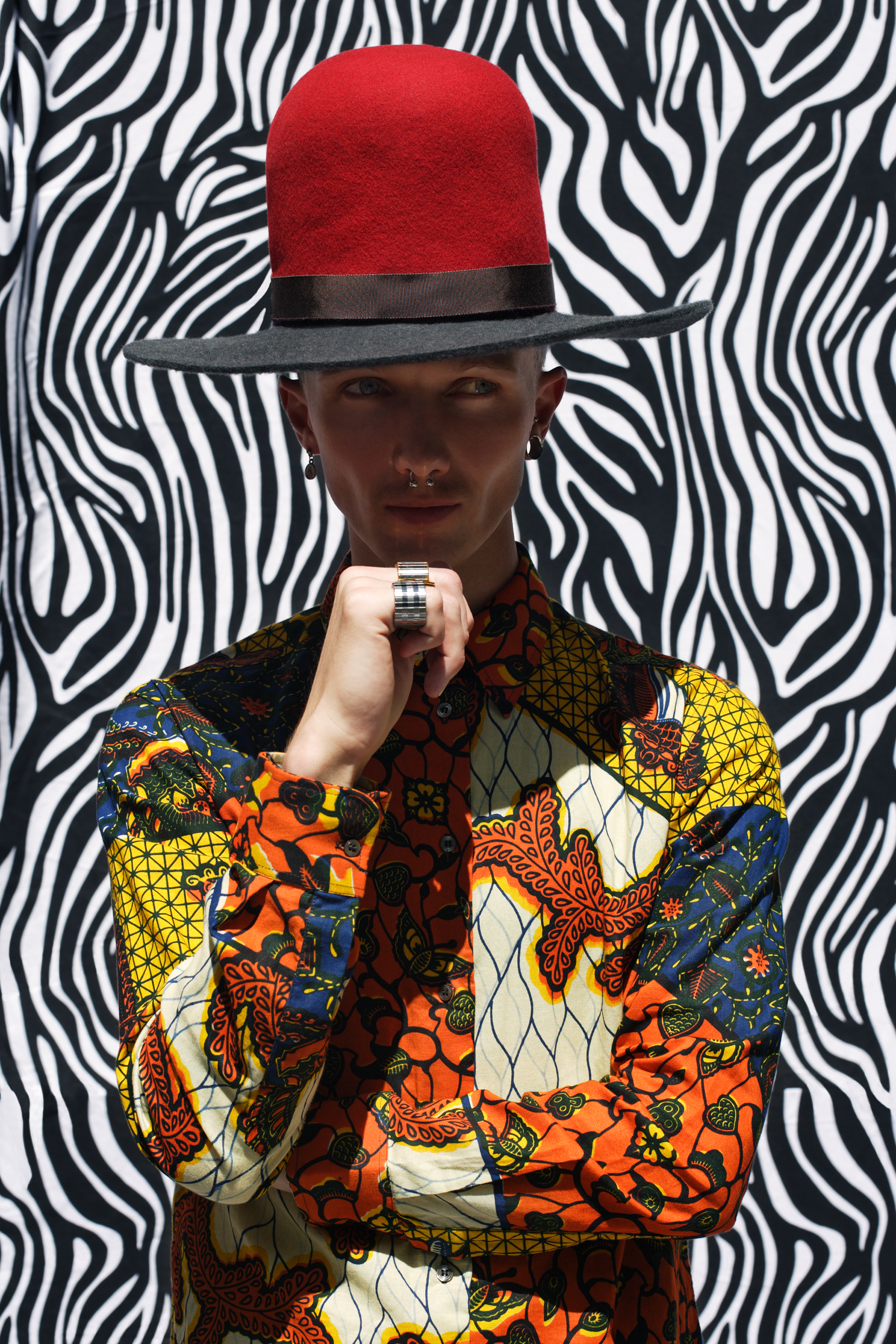 Stuart
Ankara shirt - SOBOYE
Maasai Wrap with bead fringe -SOBOYE
Raf Simons for Dr Marten's - Models own
Chain at hip - Adele Dejak
Stuart
Bowler Hat - Child of the Jago
Ankara shirt - SOBOYE
Maasai Wrap with bead fringe -SOBOYE
Chain at hip - Adele Dejak
Rings - Articulate by Maria Clay
Umbrella - Babatunde
Stuart Nathan
Bowler Hat - Max A Hatter
white shirt - Mr Start
Black Satin Jacket with shoulder detail - Alexander McQueen
Plastic Bowtie - SOBOYE
Maasai Wrap with bead fringe -SOBOYE
'Camouflage' pattern socks - Happy Socks
Dr Marten's - Models own
Bowtie - Casper Oliver
Stuart
Ankara shirt - SOBOYE
Maasai Wrap with bead fringe -SOBOYE
hain at hip - Adele Dejak
Rings - Articulate by Maria Clay
Umbrella - Babatunde
Mash
Ankara dress with matching sleeves - Chinakwe for SOBOYE
Sunglasses - Napsugar
Maasai beaded necklace - SOBOYE
Hoop earrings - models own
Esee
Dress - Kosibah
Maasai woven bag - SOBOYE
Platform shoes - FINSK
Necklace - SOBOYE
Gele - tied by stylists team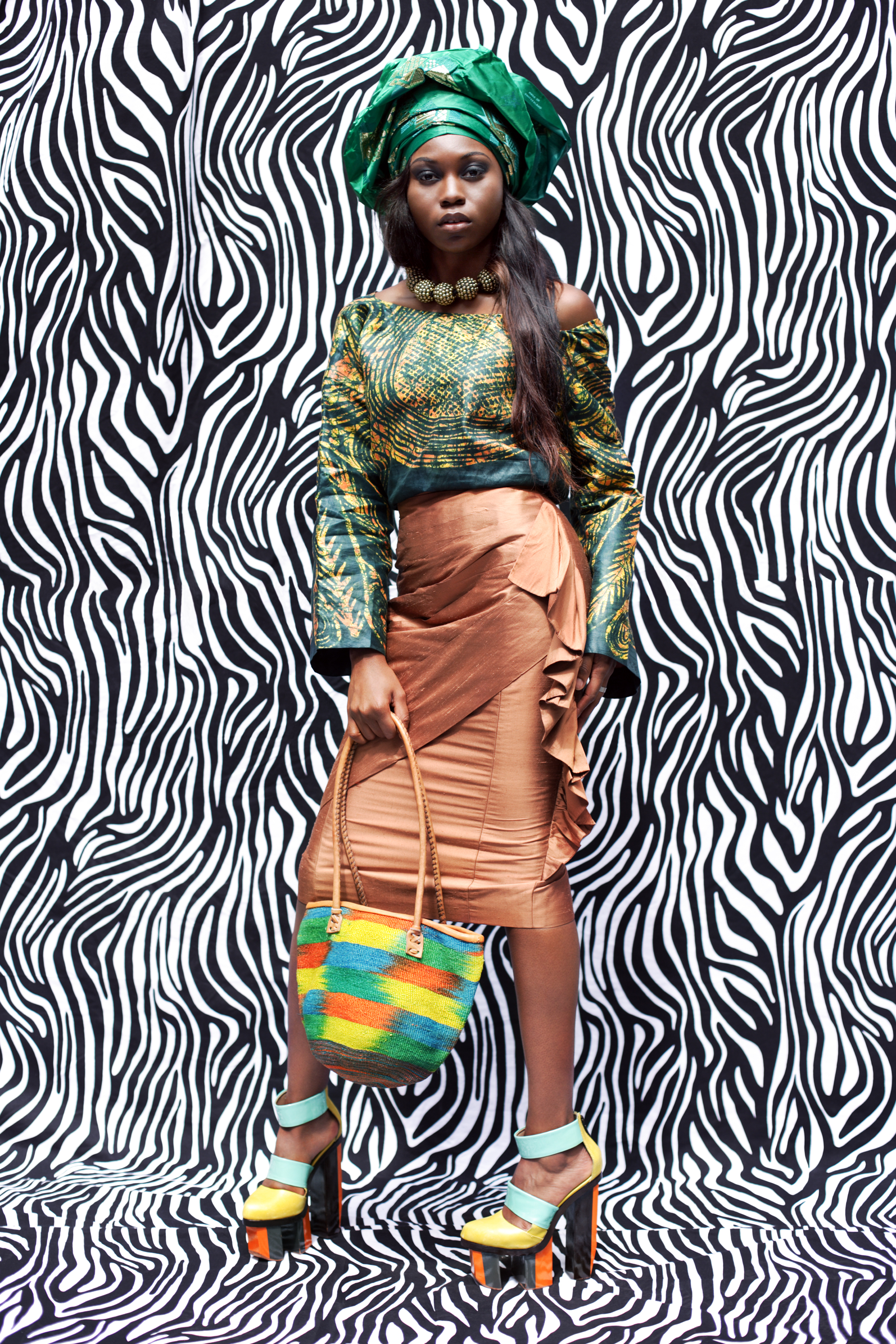 Mash
Ankara dress with matching sleeves - Chinakwe for SOBOYE
Sunglasses - Napsugar
Maasai beaded necklace - SOBOYE
Ankara print Sandals - Kene Rapu
Hoop earrings - models own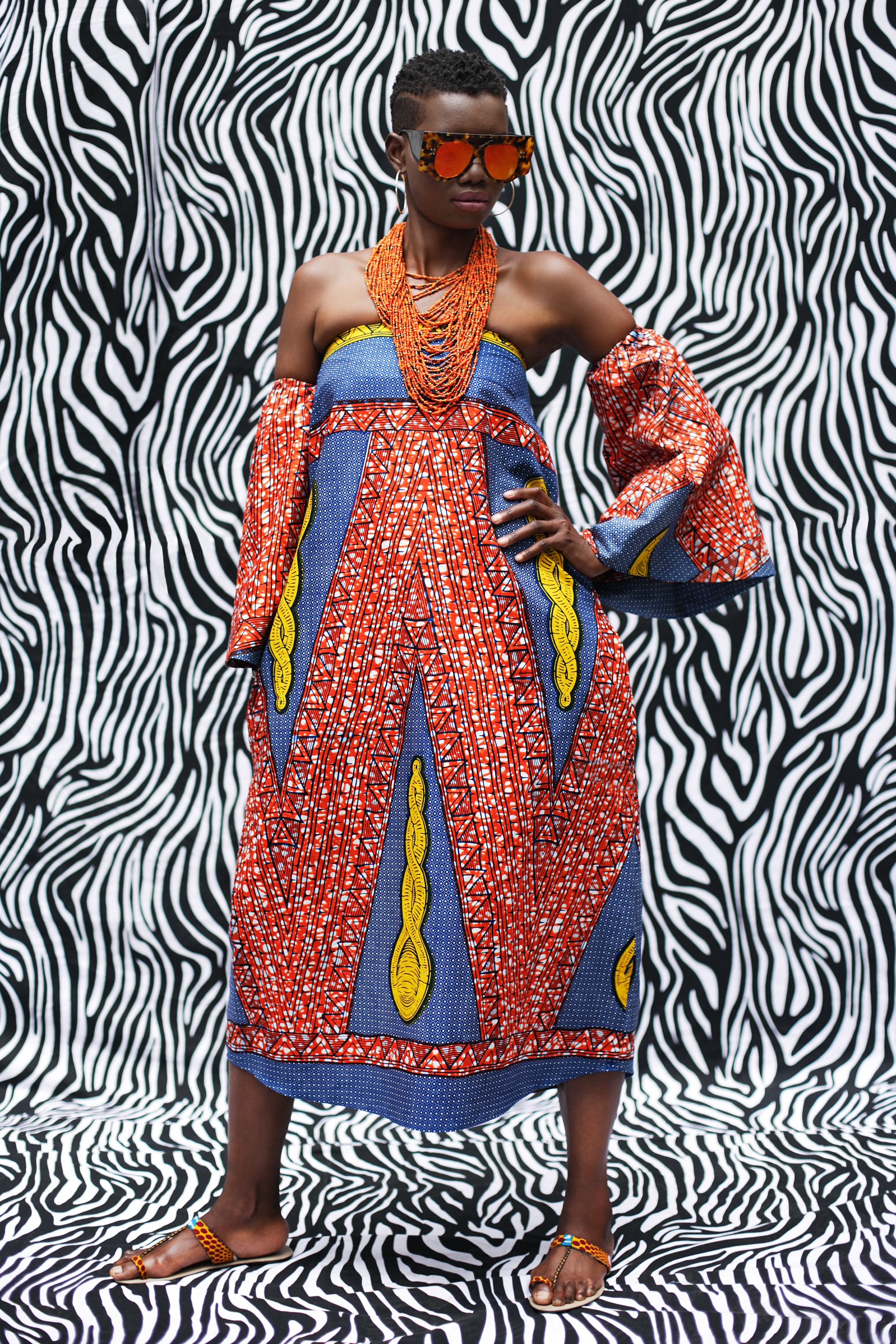 Fumi
Not head print T-shirt - Aso Global
Linen trousers - Cassandra Gubudu
Maasai woven bag - SOBOYE
Maasai beaded collar - Pebble London
Shoes - stylists own
Red beaded Hoop earrings - Elizabeth Teare
Mash
Afrikimono - SOBOYE
Printed vest - Samantha Sung
Printed Skirt - Samantha Sung
Maasai beaded necklace - SOBOYE
Shoes and socks - Stylists own
Jess
Printed hat - Totem x Taboo
Ankara vest - Cassandra Gubudu
Patchwork Skirt - Cassandra Gubudu
Lace up Boots - FINSK
Cuff & Gilt necklace - Pebble London
Chair and 'Ndbele' beaded Cushion - SOBOYE
Jasmine
Denim tie front shirt - SOBOYE
Flared jeans - vintage
Maasai necklace - SOBOYE
Shoes, sunglasses & Cuff - stylists own
Chair and Cushion - SOBOYE
Fumi
Not head print T-shirt - Aso Global
Linen trousers - Cassandra Gubudu
Maasai woven bag - SOBOYE
Maasai beaded collar - Pebble London
Shoes - stylists own
Red beaded Hoop earrings - Elizabeth Teare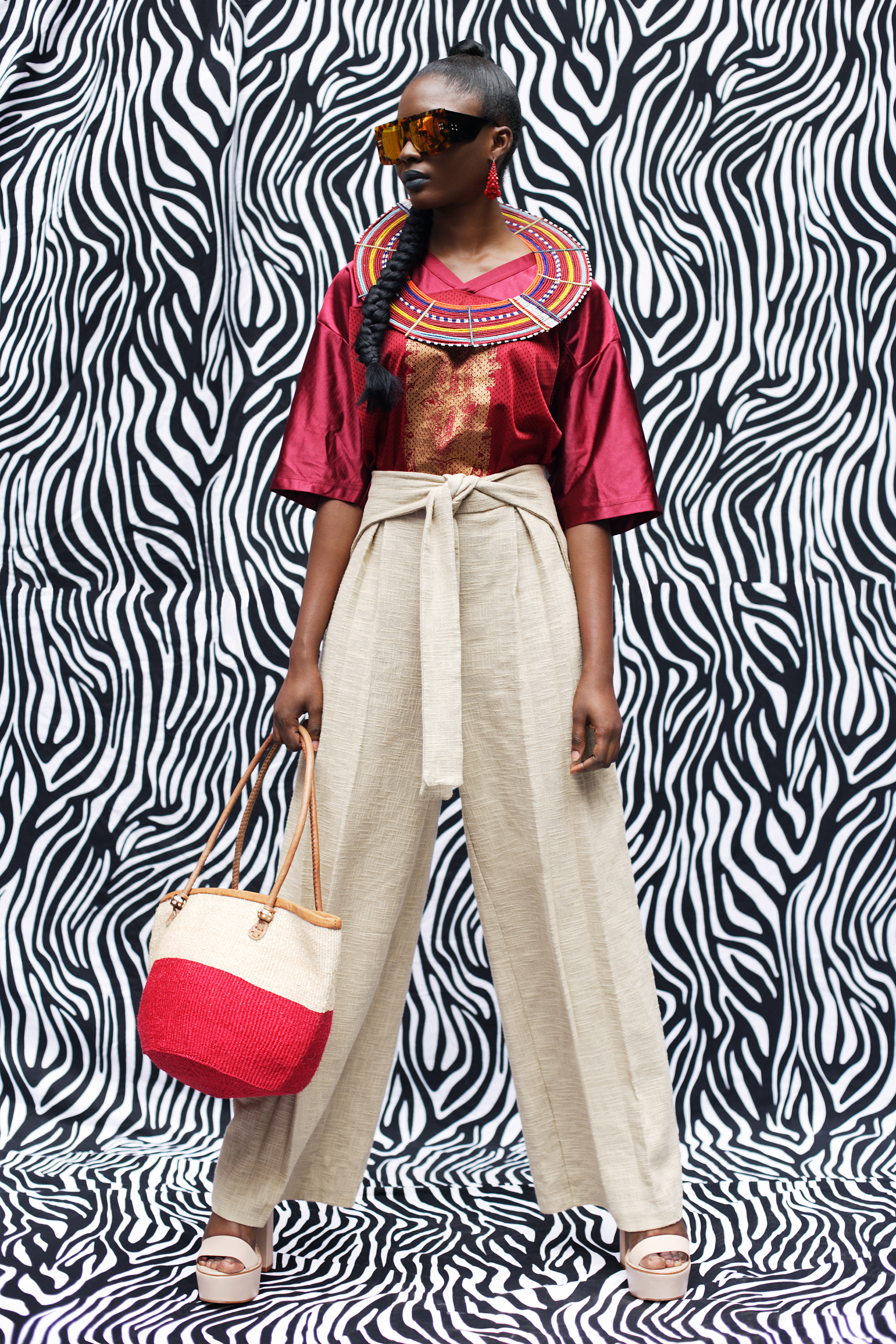 Jasmine
Denim tie front shirt - SOBOYE
Flared jeans - vintage
Maasai necklace - SOBOYE
Shoes, sunglasses & Cuff - stylists own
Chair and Cushion - SOBOYE
Wale
Mustard Bowler Hat - Child of the Jago
Patchwork Coat - Cassandra Gubudu
Ankara Shirt - Nash Prints It
Bow tie - Babatunde
Sunglasses - Napsugar
Ankara trousers - SOBOYE
Gold shoes - Alexander McQueen
Watch & Coral bead bracelet - models own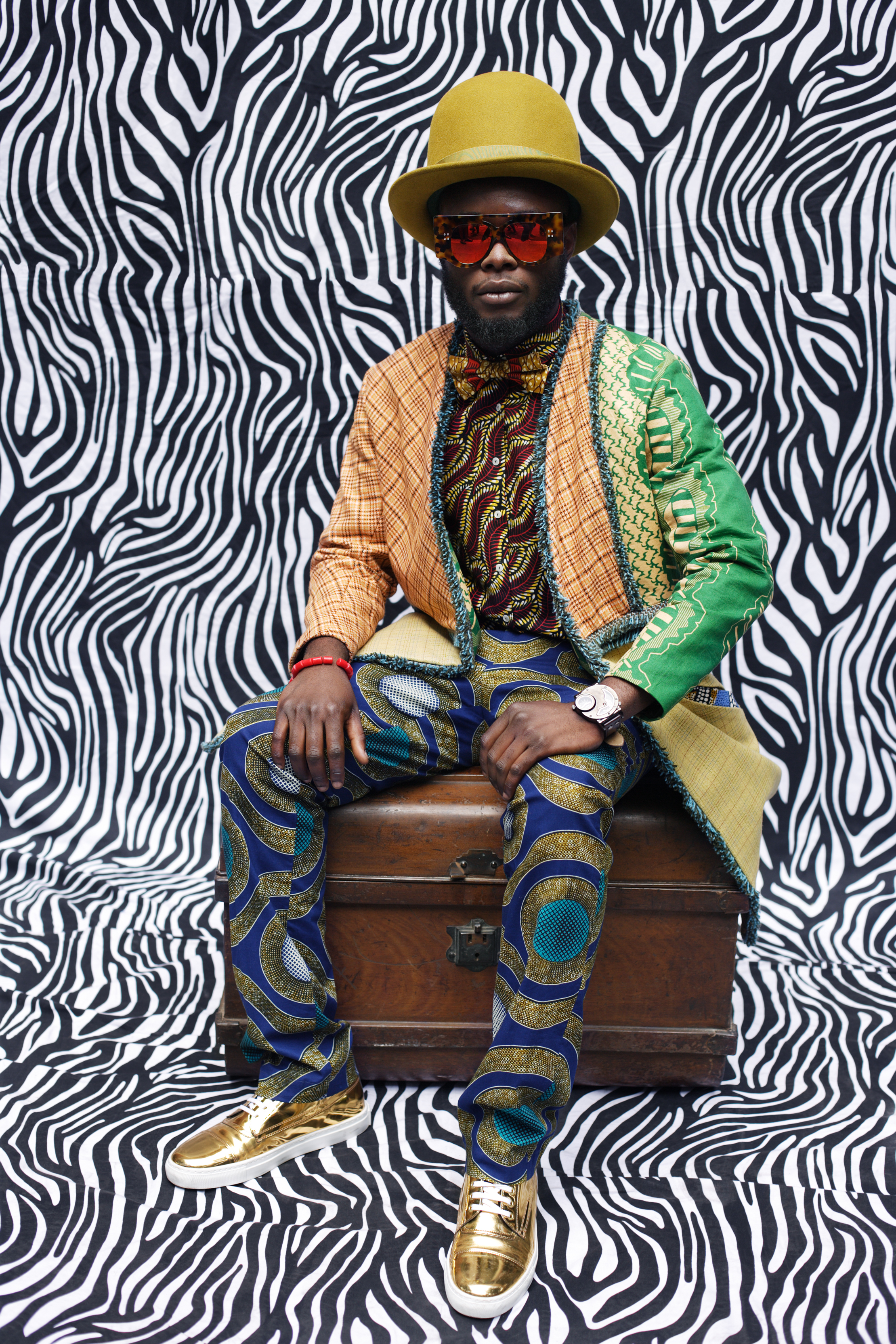 Stefano
Bowler Hat - Max A Hatter
Jacket - Stylists own
Ankare shirt, Waistcoat and matching trousers: SOBOYE
Patent boots - Alexander McQueen
Sylvester
Bowler Hat - Child of the Jago
Patchwork Coat - Cassandra Gubudu
Ankara print shirt - SOBOYE
Ankara print trousers - SOBOYE
Penny loafer shoes - Prada
Ring - stylist own
Moon
Bowler Hat - Max A Hatter
Ankara Bib - SOBOYE
Velvet and Ankara top - SOBOYE
Trousers - Alexander McQueen
Patchwork Jacket - Cassandra Gubudu
Vintage Leather necklace - Darkroom
Sunglasses - Napsugar
Shoes - FINSK
Gaetano
Black & Gold Trilby - Bernstock & Speirs
Short sleeved jacket and Bib front shirt - SOBOYE
Bowtie - Babatunde
Jeans - Models own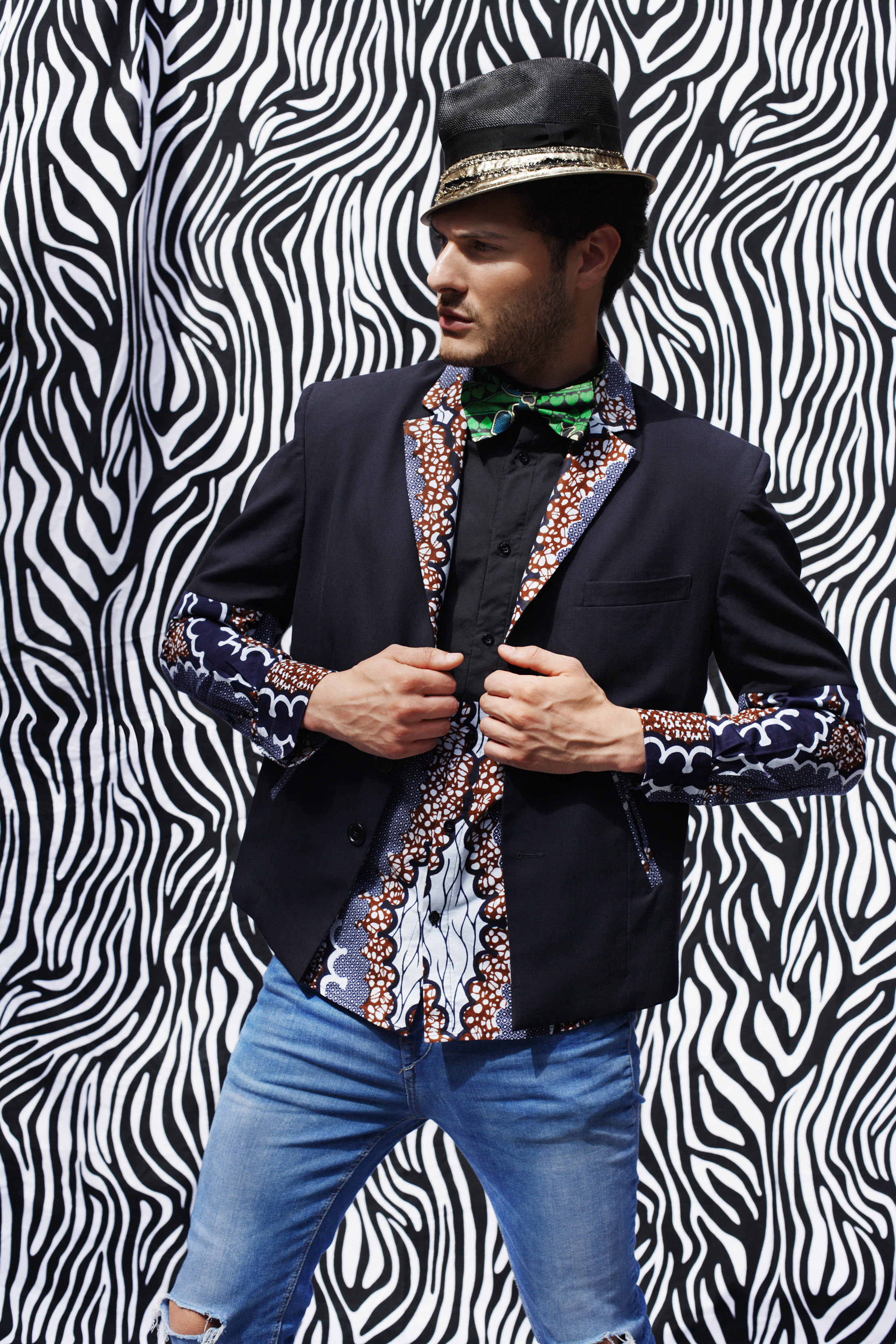 Juwon
Sweatshirt with attached shirt -SOBOYE
Jeans - Snake & Dagger
Shoes - Alexander McQueen
Sunglasses - Napsugar
'Fist and bead' necklace - Strange Loop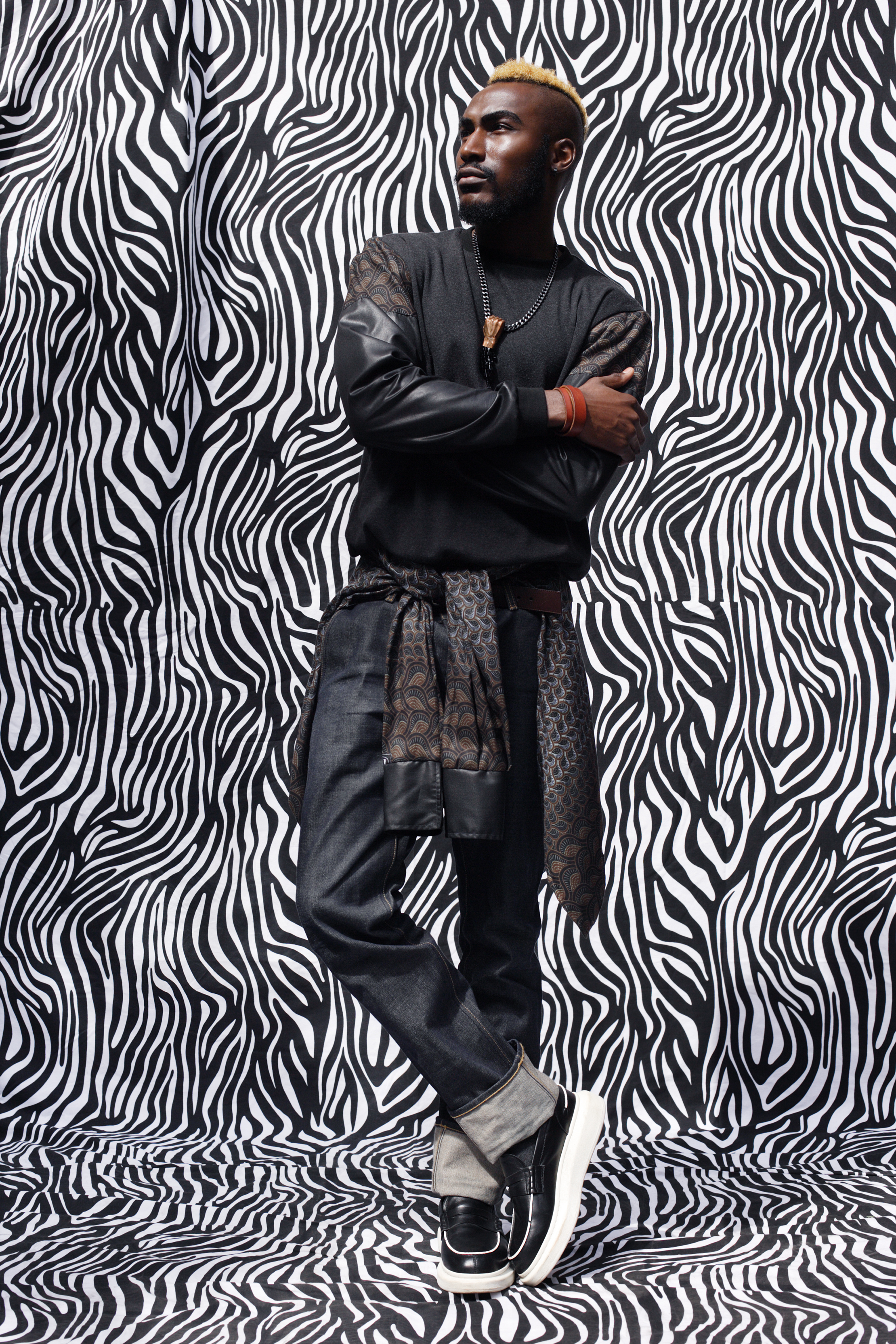 Tunde
Bowler Hat - Max A Hatter
Striped patchwork sweatshirt - SOBOYE
Rings - stylists own
Tunde
Bowler Hat - Max A Hatter
Striped patchwork sweatshirt - SOBOYE
Trousers - Alexander McQueen
Rings - stylists own
Jasmine
Citrus yellow dress - Merci Me
Masaai Beaded Brass Necklace -SOBOYE
Shoes - Stylist' own
Pink Dress - Merci Me
Fringed Collar - Totem x Taboo
Sunglasses with pink peak - Oxfam
Black pleather leggings - stylists own
Stiletto's - Models own
Pink Dress - Merci Me
Fringed Collar - Totem x Taboo
Sunglasses with pink peak - Oxfam
Black pleather leggings - stylists own
Stiletto's - Models own
ESTELLE
Blue Silk dress - Merci Me
Fringe printed collar - Totem x Taboo
Fulani 'Earrings' - Pebble London
Gold Shoes - stylists own
ESTELLE
Blue Silk dress - Merci Me
Fringe printed collar - Totem x Taboo
Fulani 'Earrings' - Pebble London
Gold Shoes - stylists own
Funmi
Pink Dress - Merci Me
Fringed Collar - Totem x Taboo
Sunglasses with pink peak - Oxfam
Black pleather leggings - stylists own
Stiletto's - Models own
Essence Magazine on Soboye @ African Street Style Festival
Essence Magazine covers Soboye @ African Street Style Festival
African Fashion Week - Mens Catwalk
African Fashion Week - WOMens Catwalk
Africa uTOPIA @ SOUTHBANK AND PREVIOUS SHOWS